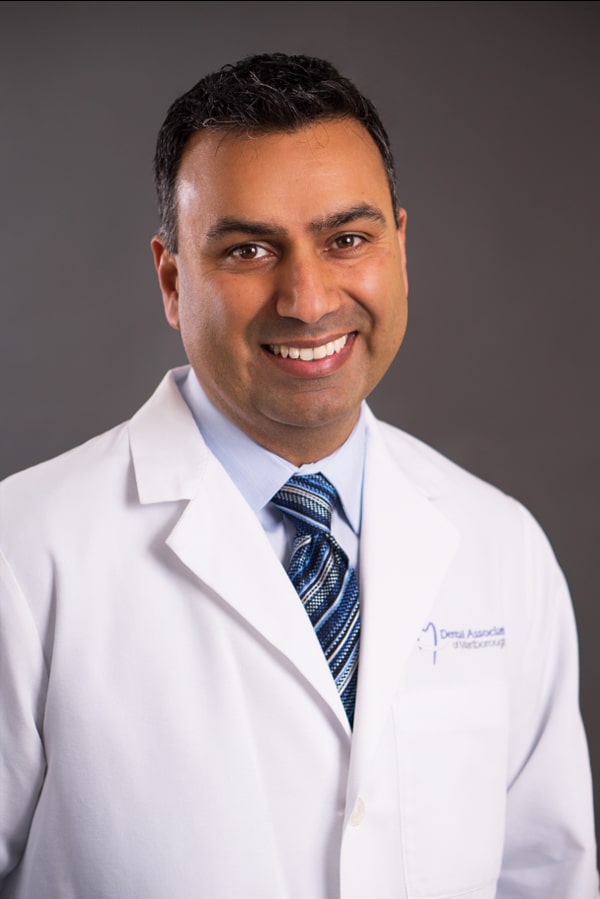 ---
Dr. Sanjiv Nehra received his Undergraduate degree from Boston College and attended Tufts School of Dental Medicine where he received his Doctorate of Dental Medicine degree. Having completed a rigorous residency in Washington D.C. at the VA hospital, Dr. Nehra moved back to Massachusetts where he has been practicing for the past 20 years.
He holds memberships in several accredited institutions that value the importance and role of dentistry in overall health.These include The American Dental Association(ADA), theMassachusetts Dental Society(MDS), Worcester District Dental Society (WDDS),The International Team for Implantology(ITI), The MetroWest Study Club, Faculty Member of the Spear Education Institute, and he is a member of the School Wellness Advisory Council (SWAC) team for promoting dental health education awareness in the public school system in Marlborough.
Dr. Nehra loves technology and the advancements it has made in the dental field, making it easier for him to work with patients on a minimally invasive level, while delivering the best possible results for patients. He incorporates the latest developments in technology into effectively developing successful treatment planning for his patients. He continuously participates in continuing education courses to bring the advances in the dental field to make your visit to our office, a more informative and pleasurable experience.
As an ardent believer of giving back to his community, Dr. Nehra hosts an annual FREE Dental Clinic at his office providing FREE dental services to underprivileged children in the community. He also volunteers his time as local day care and elementary schools to educate children on the importance of good dental hygiene. He supports various charities in the Marlborough community from the Boys and Girls Club to sponsoring High School scholarships for colleges. His office also hosts an annual Child Identification Program (CHIP) which he hosts in coordination with the Marlborough Police Department.
Born and raised in RI, Dr. Nehra is a die-hard Boston Sports Fan!! He is equitably passionate about all of his favorite teams: The Celtics, The Red Sox, The Bruins, and the New England Patriots! He is married and lives with his wife and two children, Reya and Krish, in Sudbury. When he isn't rooting for his favorite teams, Dr. Nehra loves to throw the football around or shoot hoops with his son, or make creative crafts with his daughter. He loves to travel with his family and is always looking for an adventure. They recently made a four-legged furry addition of Cookie to their family.
---